Lentil, Leek and Potato Gratin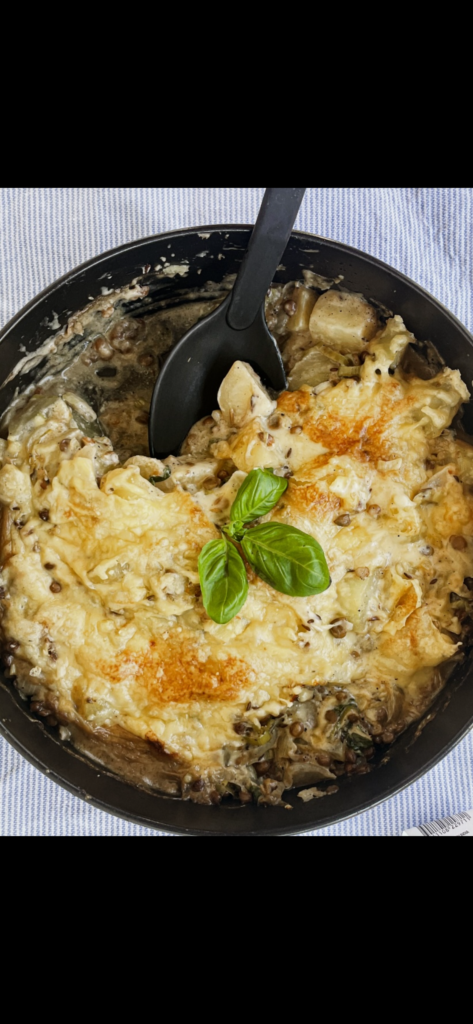 This recipe is the ultimate creamy comfort food. A vegan, gluten free, more filling version of a French styled dish that doesn't compromise on taste!
Ingredients:
2 tbsp olive oil
3 large Yukon gold potatoes, peeled and cubed 
1 leek, washed and sliced into 2cm rings
1 brown onion, diced
5 garlic cloves, minced
1 tbsp caraway seeds
¼ tsp nutmeg, freshly ground
1 tbsp dried thyme
1 400g can lentils, rinsed, drained
400ml unsweetened soy milk
1 tsp cracked black pepper
Sea salt to taste
Cashew Cheese:
1 cup raw cashews
1 ½ cup water
Juice of 1 small lemon
2 tbsp nutritional yeast
½ tsp salt
½ garlic powder
Method:
1. Soak the cashews in hot water for 20 minutes and set aside. Once soaked, rinse the cashews and add water, lemon juice, nutritional yeast, salt and garlic powder to a high-speed blender and blend until smooth.
2. Preheat the oven to 200C and grease a casserole dish with olive oil.
3. Heat 1 tbsp of olive oil on a medium sized pan on medium low heat adding leek, onion, and a touch of salt. Cook until aromatic and the onion is translucent.
4. Add potatoes, lentils, caraway seeds, thyme, pepper, garlic, nutmeg, soy milk and half the cashew cheese sauce stirring through and simmer for 15-20 minutes.
5. Pour into the casserole dish and add the remaining cashew cream sauce on top.
6. Bake in the oven for 30 minutes or until lightly browned.
7. Enjoy!