Thai Vegan Green Curry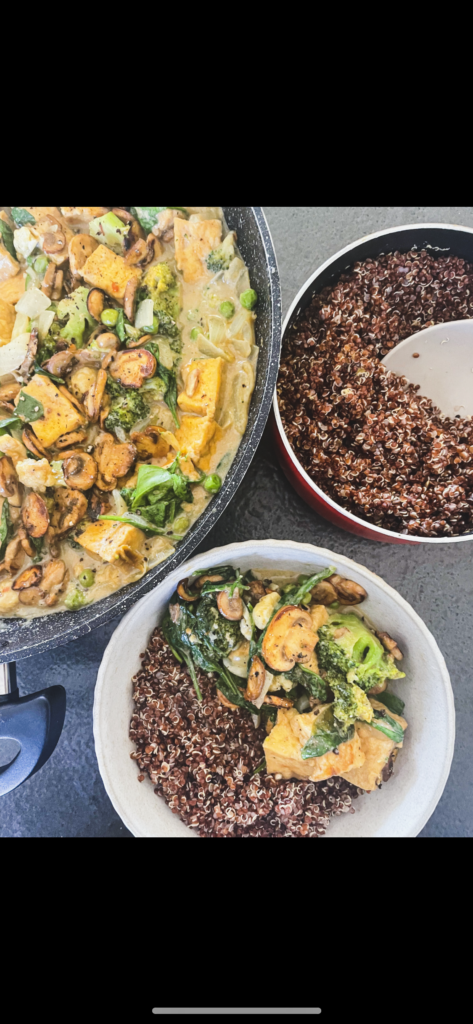 This curry is full of strong bold flavours with loads of veggies and spices. This dish is nourishing, appetising, and served with red quinoa for added protein.
Ingredients:
1 large onion, chopped
4 garlic cloves, minced
1 tbsp olive oil
1 tbsp fresh grated ginger
2-3 tbsp a clean vegan Thai green curry paste (or DIY)
1 400 g can light coconut milk
1 tbsp gluten-free tamari sauce
1 cup liquid vegetable stock
1 tbsp fresh lime juice
1 cup cauliflower,  chopped
1 cup broccoli, chopped
4 cups baby spinach
1 cup frozen peas, thawed
200g of firm tofu (2/3 of the block), cubed
2 cups mushroom
2 cups red quinoa to serve
Sea salt to taste
Black pepper to taste
Method:
1. Cook quinoa according to packet directions and set aside.
2. Place a large pan over medium-low heat and add the olive oil. Add onion, garlic, ginger and a pinch of salt and sauté until tender.
3. Add the tofu and mushroom and cook for 5–10 minutes stirring and turning the tofu until it browns up.
4. Add the cauliflower, broccoli, peas and sauté for a further 2-3 minutes.
5. Add the green curry paste, coconut milk, vegetable stock, and simmer for 10-15 minutes until the vegetables are tender.
6. Stir through the spinach until wilted.
7. Turn off the heat and add the lime juice, tamari sauce and any other seasonings to taste.
8. Serve up in bowls with quinoa.
9. Enjoy!