Tania has specialised in the area of women's health for over fifteen years and is passionate about helping women achieve their health goals.
Hormonal health issues affect nearly all women at some stage in their lives. Whether it be preparing for pregnancy, dealing with hormonal fluctuations or enjoying a positive transition into menopause, natural medicine can assist in maintaining health during all stages of a women's life.
Our hormonal health relies on more than just healthy ovarian function; genetics, nutrition, liver and bowel function and the health of other endocrine glands all impact on the health of our hormones. As wholistic practitioners we take into account all areas of health and develop treatment protocols based on individuals needs.
Nutrition
Many women don't realise the important role good nutrition plays in helping to balance and maintain healthy hormones. Nutritional deficiencies are surprisingly common in Australia. Factors that influence our nutritional status, include stress, poor absorption and sometimes foods and beverages in our diet that compete with nutrients or increase their excretion. Medications can also play a role in nutritional deficiencies, the oral contraceptive pill is well known for decreasing B6 levels, so when taken long term can actually undermine hormone balance.
Herbal Medicine
Women have used herbal medicine for centuries to balance the menstrual cycle, support ovarian function and improve hormone metabolism. Specific herbs help to improve oestrogen, or progesterone, decrease hormonal symptoms, regulate the cycle, manage heavy bleeding and improve hormone metabolism, which in turn helps to manage a range of conditions such as these listed below:
Common Hormonal Problems
Endometriosis
Adenomyosis
Polycystic Ovarian Syndrome
Acne
Abnormal hair growth
Fibroids
Uterine Polyps
Fibrocystic breasts
Heavy periods
Irregular or absent periods
Painful periods
Cervical dysplasia
Infertility
Pre-menstrual Syndrome (PMS)
Irritability
Feeling emotional
Fluid retention
Sugar cravings
Low mood
Fatigue
 Peri-menopause – Menopause
Periods becoming more irregular
Irritability
Hot flushing
Changes in metabolism
Insomnia
Low mood
Changes in libido
Using in-clinic screening tools and functional and general pathology we can help identify your hormonal problems and structure treatment depending on your individual needs.
Often women will seek help once they have been diagnosed with a specific condition, we can work in conjunction with medical practitioners and gynaecologists to achieve best results.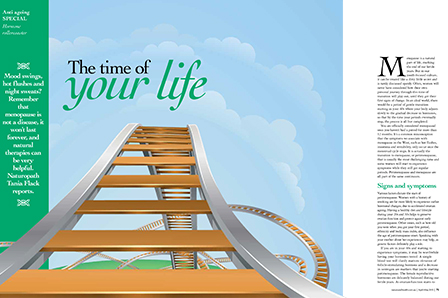 The Time Of Your Life – Nature & Health Magazine
Read my recent article for Nature & Health Magazine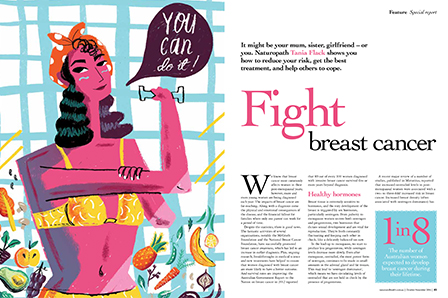 Fight Breast Cancer – Nature & Health Magazine
Read my recent article for Nature & Health Magazine

So what ever the problem, we are here to help.
Book an Appointment